Birth Month Flower Pendant Necklace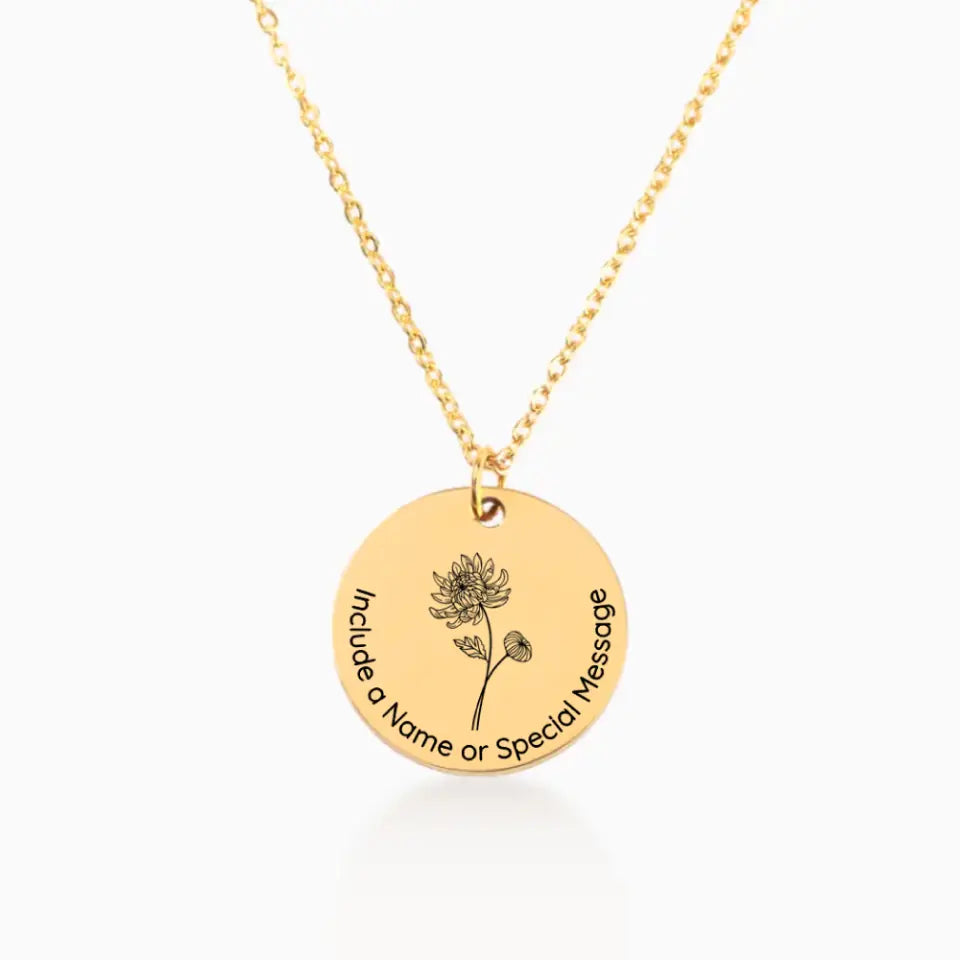 FRONT TEXT IDEAS
Name (e.g., "Sophia")
Birth Month (e.g., "August")
Life Blooms
Birthed Beauty
Nature's Gift
Blossom & Grow
Flourish
Petal's Promise
BACK TEXT IDEAS
Date of birth (e.g., "07.12.1995")
A personal affirmation (e.g., "Rooted in strength")
A meaningful quote about growth or life (e.g., "Bloom where you're planted")
A short dedication (e.g., "For my blooming heart")
Personal mantra or saying (e.g., "Rise, shine, and bloom")
Coordinates of a special place (e.g., "34.0522° N, 118.2437° W" - maybe where they were born or a cherished location)
A message of encouragement or reflection (e.g., "Growing beautifully with time")
A special event associated with the birth month (e.g., "Engaged 08.15.2020")
Each item is handcrafted and assembled with love just for you and your loved one. Due to this, please allow 2 - 5 business days for your order to ship.
Once shipped, you can expect delivery within:
USA: 3 - 6 Business Days
UK: 3 - 4 Business Days
Europe: 1 - 6 Business Days
Shipping costs will be displayed at checkout.
Interactive Hotspots for More Information
Back Text
Flip it over! Add a secret message to the pendant's back for an extra personal touch.
Gift Box
Each necklace arrives in a black gift box, ready for gifting.
Artwork
Front Text
Add a touch of 'you' with custom text that flows naturally around the artwork.
Designed With Meaning
At the heart of Designed With Meaning lies a refreshing blend of personalized artistry and a keen understanding of life's cherished moments and memories. Our heartsong is to celebrate you and the things you cherish most.